Celebrations are best enjoyed with a glass of bubbly… Or in this case, a black salt pineapple cocktail or a citrus whisky tonic.
Oh yes, let the party begin! Here are a few of our favourite wedding cocktail recipes to add to any party:
Vodka + pineapple cocktail with black salt rim
Tropical flavours are such a popular trend right now – we've glammed this up with the dark and mysterious black salt. The pineapple, paired with the mineral undertones of the black salt creates a deliciously refreshing drink. 
Makes: 6 | Difficulty: Easy
Ingredients: 
6 cups pineapple juice and extra for dipping
300ml Anestasia Vodka
12 blocks ice
12 tsp black salt
To serve: 
6 large slices of pineapple
Method:
Combine pineapple juice, vodka and ice in a cocktail shaker or large jug. Stir and leave to chill while you prepare the glasses.
Dip the rim of each glass in a saucer filled with some pineapple juice.
Then dip the rims in another saucer with the black salt. Roll the rims in the salt so that they are well coated.
Once the glasses are ready, pour the prepared cocktail into the glasses and add a pinch of black salt to each one.
Serve each with a large slice of pineapple.
Spumanté + Pomegranate Cocktail 
What is Spurmanté, you're wondering? It is a lovely, slightly sweet wine, with a fruity and floral undertone – and a lively spark! Paired with the sharp flavour of the pomegranate juice, this is a balanced and invigorating cocktail. 
Makes: 6 | Difficulty: Easy
Ingredients: 
1 bottle Ovation Spurmanté, chilled.
6 tsp honey
2 pomegranates thinly sliced
1/2 cup pomegranate juice
Method: 
Divide the Spurmanté between 6 glasses, and add 1 tsp of honey per glass. Stir.
Garnish the edge of the glass with a thin slice of pomegranate.
Just before serving, pour a small amount of pomegranate juice into each drink.
Serve chilled.
Honey Bubbles
This trend is new to SA but really ancient. Mead is a wine made from fermented honey, creating a distinct flavour like nothing you know.
Makes: 5 | Difficulty: Easy
Ingredients: 
1 bottle Melaurea Mead Methodé Traditionelle, chilled.
To serve – six small pieces of honeycomb.
Method: 
Divide the Melaurea mead between 5 glasses.
Garnish the side of each glass with a smaller piece of honeycomb.
Berry + Lime Gin With Cashew Snack Basket
The small snack basket in the cocktail is a fun way to keep your guests satisfied while you're busy getting your photos taken. And the best part? You can add any snacks you like!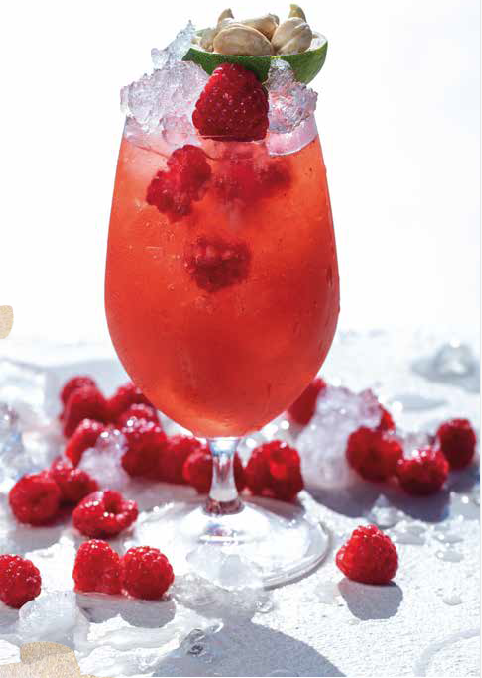 Makes: 4 | Difficulty: Easy
Ingredients: 
300ml Flowstone Bushwillow Gin
4 cups strawberry juice
6 cups crushed ice
1 1/2 cups fresh raspberries
3 limes, halved and flesh removed
1 1/2 cup raw cashews
Method: 
Combine the gin and strawberry juice, stirring well.
Fill 4 glasses with crushed ice and place a few fresh raspberries in each glass.
Pour the cocktail over the crushed ice.
To garnish, settle the halved lime into the crushed ice and fill with a quarter cup of cashews. Serve immediately.
Citrus Whisky Tonic
Use any citrus juice you fancy for this drink – it really depends on how sweet or sour you like it. For a sparkling and glamourous finish, add a small pinch of edible gold glitter to the glasses. 
Makes: 6 | Difficulty: Easy
Ingredients: 
24 blocks ice
300ml American Barrels Bourbon Whiskey
4 cups tonic
1 tbsp citrus juice (orange, grapefruit or lemon juice)
6 small pinches of edible glitter (to serve)
Method: 
Divide the ice between 6 glasses, and tip up a double shot of bourbon in each glass.
Finish the cocktail by filling each glass with tonic, and stir in a tablespoon of the citrus juice.
Serve immediately.
Read Also: Modern Romance: Dreamy make-up trends that we love