It's wedding season, which means venues are getting calls from brides and grooms all over South Africa. But where to book your big day?
A new study is spilling the tea on the most popular wedding venues around the world, collecting data from TripAdvisor and Instagram.
The wedding financial experts at money.co.uk analysed TripAdvisor to reveal the venues with the most mentions of 'weddings' in their reviews and then used Instagram data to discover which ones have been shared the most on the platform and ranked them from highest to lowest.
The data has since revealed the most popular venues in the UK, Europe, the USA, Canada, Australia, New Zealand and South Africa.
So, just which South African venues made the cut?
The Oyster Box in Durban takes the number one spot with nearly 8000 Instagram hashtags and over 100 mentions on TripAdvisor. Avianto in Johannesburg comes in at number two, while Cape Town's Cavalli Estate swoops in at number.
Here's a look at other incredible wedding venues: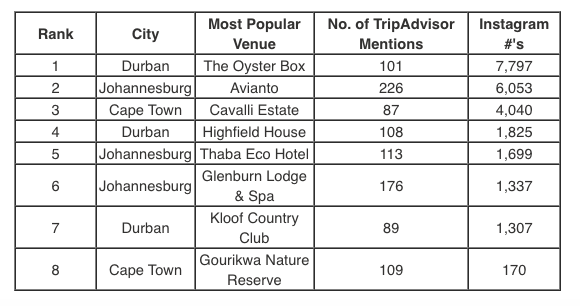 If you're planning a destination wedding and looking for the full list, check it out here. Otherwise, here's a closer look at what makes these venues so special:
The Oyster Box 
View this post on Instagram
View this post on Instagram
Avianto 
View this post on Instagram
View this post on Instagram
Cavalli Estate
View this post on Instagram
View this post on Instagram
Feature Image: