"The devil is in the details," and boy, can planning a wedding sometimes feel like taking a quick trip to hell if you don't have the right support. I'm sure I don't need to tell you how stressful planning your impending nuptials can be, but with so many details to think about, some things can slip through the cracks. 
One detail that's not always necessary, but that's great to include if you're looking to have your guests "ooh" and "ahh" is the centrepiece. An interesting fact is that a table centrepiece is often overlooked by brides and planners. 
Who wants to talk over a ginormous centrepiece, right? But despite a few cons, a table centrepiece is a fantastic way to elevate your wedding theme, adding a little je ne sais quois to your already incredible event. 
Go big or go home you say? If you're looking to add a little drama to your wedding – with decor, that is – adding a tall centrepiece can be a great way to add that pop you're looking for. 
Take what resonates and toss what doesn't! Here are a few tall centrepiece ideas that will steal your heart as they have mine:
A drama that's subtle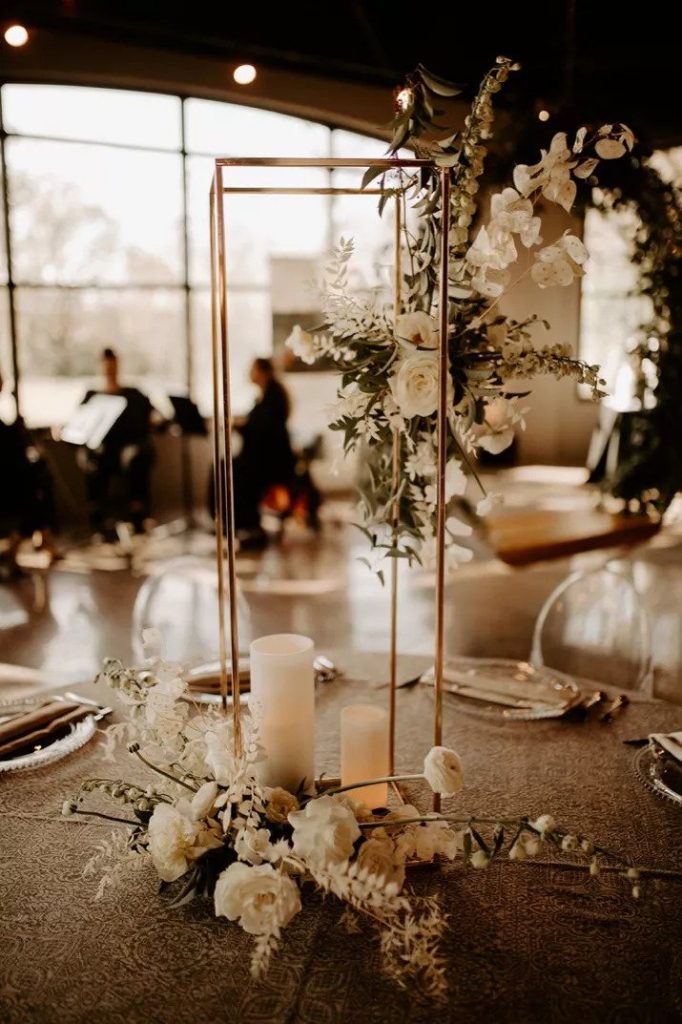 A dramatic centrepiece that offers a subtle touch. Bridal couples looking to keep things simple when their guests sit down will certainly love this minimalist geometric design. Keep it elegant with gold and floral trimmings. 
A reception by candlelight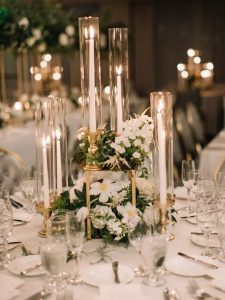 There's something cosy yet alluring about a candle and flame. After all, don't all romances start after an intimate candlelit dinner? This amazing design keeps things simple, using levels to add a subtle drama that's not too much while the addition of greenery and flowers beautifully tie things together.  
A whimsical addition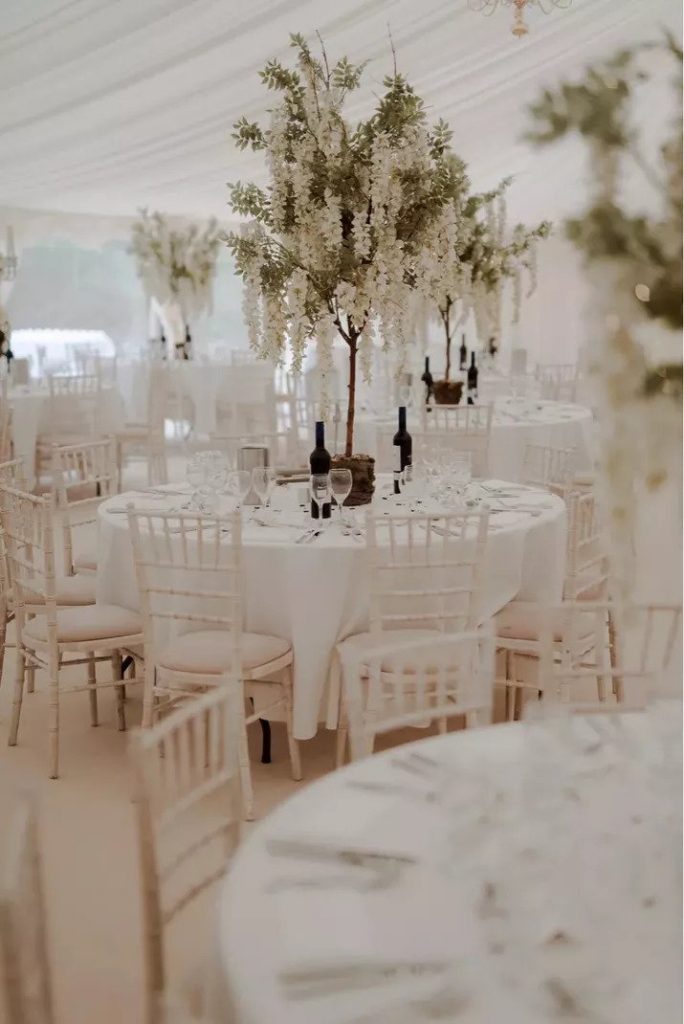 I love the idea of bringing nature into the mix, and this tall centrepiece is certainly perfect for nature lovers looking to bring the outdoors inside. Wisteria can be a great addition for bridal couples looking to add more romance to an already romantic setting. The best part? Your guests will definitely be able to see and talk to each other. 
Keep it traditional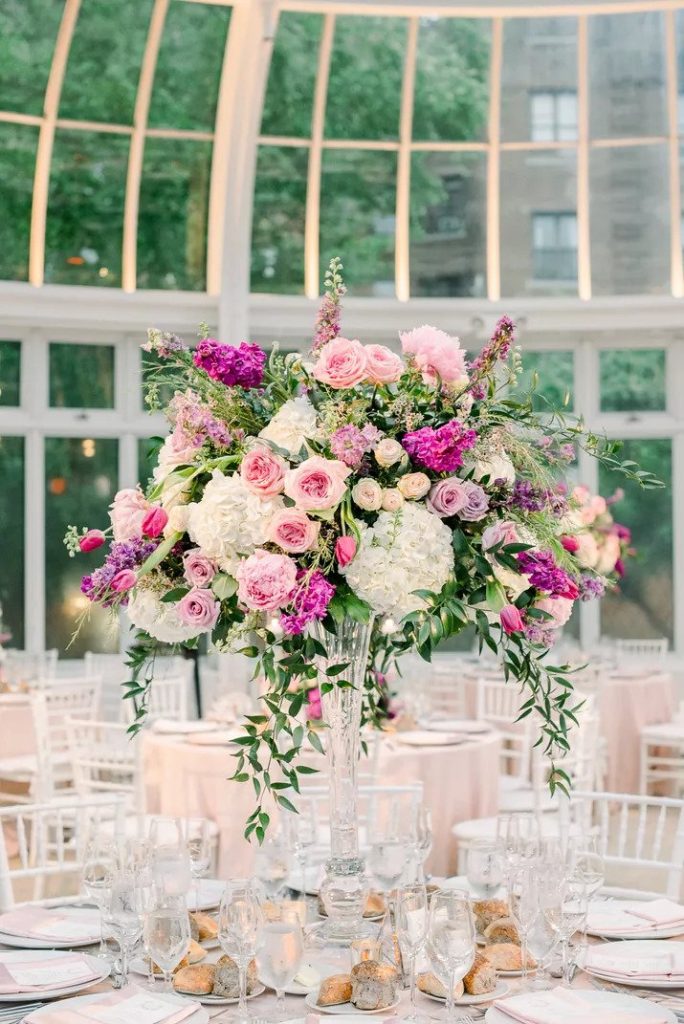 Looking to make a statement but hoping to keep it traditional? This floral design, which is mixed with classic white blooms and pops of purple and pink will provide a striking arrangement while allowing you to stick to something more traditional. 
Fancy grass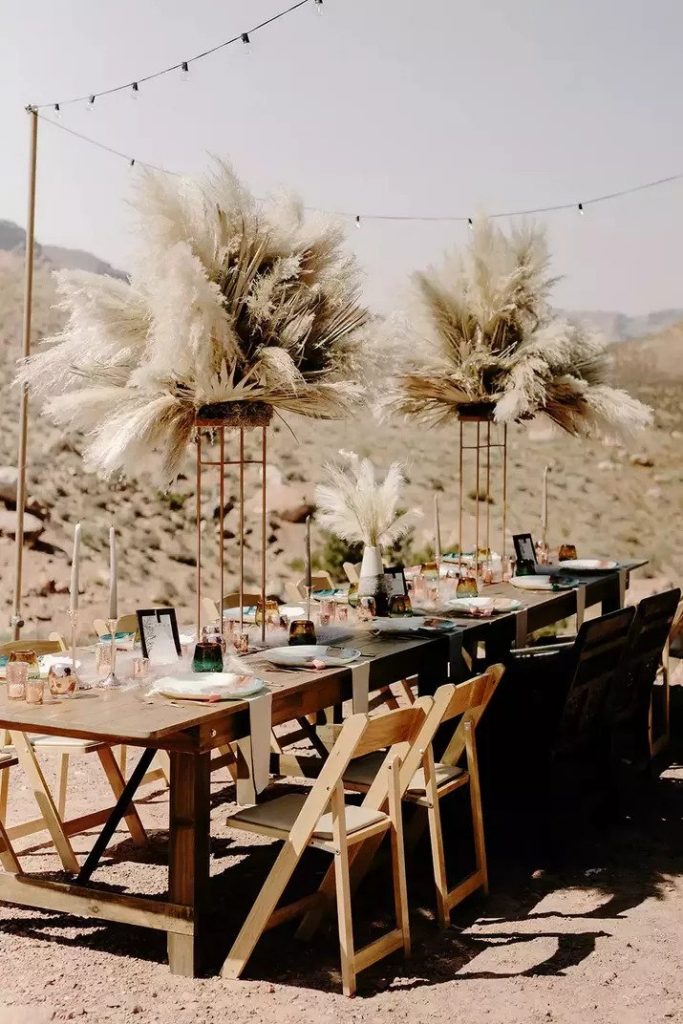 I have a confession to make. I'm a little obsessed with pampas grass. There's something so subtly elegant and fancy about it… it must be the feather-like texture that this plant offers. Nonetheless, it can be a gorgeous addition to your guests' table. Similar to this design, all you need is a tall stand and as many pampas grass as you can dream of. They're also pretty affordable to purchase, so we're winning! 
There's nothing wrong with simple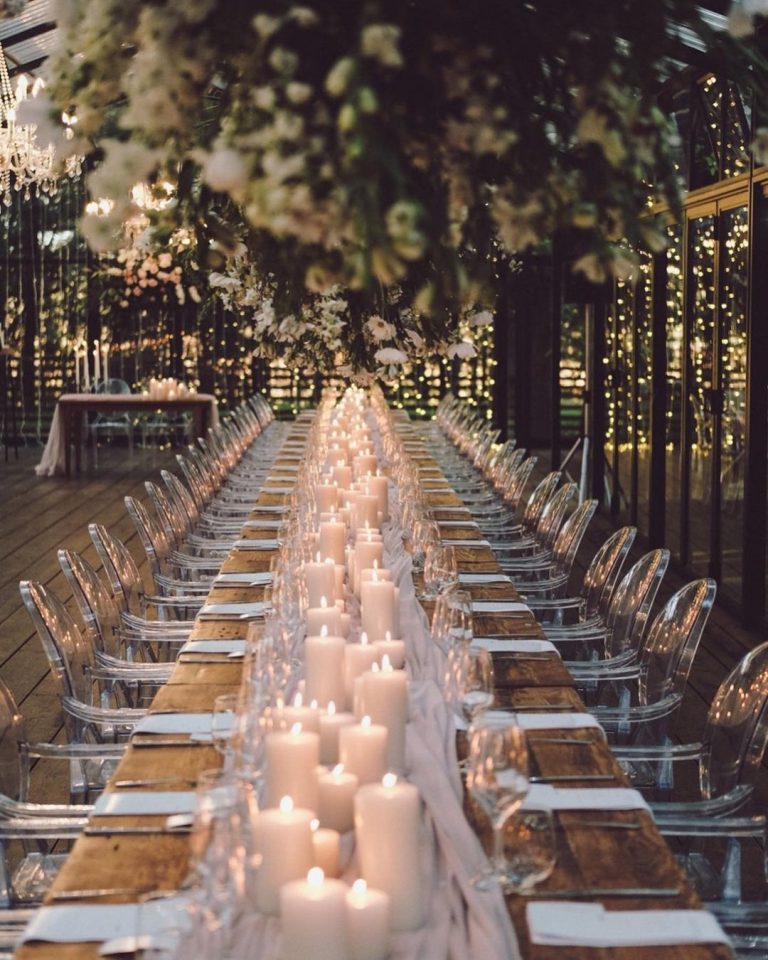 Sometimes it's okay to let your gorgeous venue do all the talking. This simple table centrepiece adds a little light and romance and ensures that the decor does all the talking. While there's nothing wrong with going big, this design proves that simplicity can often speak louder.
Feature Image: Elizabeth Wells Photography