Congratulations, you are getting married! After many years of relationship and waiting for the man of your life to dare to ask you the famous question, the time has come: you are going to celebrate your wedding and you must organize everything correctly to make it an unforgettable day.
For many brides to be able to organize their wedding day to their liking is a challenge, since they not only want their dress to be the ideal one and the place where the event will be held to be suitable for the type of ceremony they plan to celebrate, but they also want excellence in each of the details that surround an event of these characteristics: the type of flowers that will predominate throughout the ceremony, the banquet, the music, and of course choose what will be the dresses of their bridesmaids.
It is a truth known worldwide that a bride will always need at least one bridesmaid on her wedding day, although the ideal and most common is that there will be between 3 and 4 lucky bridesmaids who will accompany the bride to the altar and help her in everything she needs during the most important day of her life.
Now, what is the best way to choose the dress to be worn by the bridesmaids at your wedding? Is there only one way to get it right? Or does it all depend exclusively on the bride's taste and the patience you have with her bridesmaids to accommodate her every whim and change of mind?
The answer is very wide. Cicinia has tons of experience dressing brides and their bridesmaids and they firmly believe that there are two main factors:  the place where the wedding will be held and the time.
From these two factors, and of course the personal taste of the bride and groom, they assure you that you can choose the dress for your bridesmaids without fear of making a mistake. Knowing where and at what time your wedding will be held will help you to solve many doubts regarding the wardrobe, such as: choose long dresses and dark tones if it is a night wedding or opt for a more casual dress with white tones if it is a beach wedding, among other things.
Straight from the Cicinia team, they'll explain six original ways to dress your bridesmaids so that the theme of your wedding and your wardrobe are perfectly combined!
Take note!
A wedding based on your moon sign 
More and more brides are deciding to follow the designs of the moon and prepare their weddings based on what their zodiac signs tell them. For example, if you are a Leo bride, your bridesmaids' dresses should be striking and quite seductive, because according to what astrology tells us about this fire sign, Leo women are usually very attractive, intelligent and with a great gift of people. Something that translated into the world of fashion results in dresses with large openings in the back, plunging necklines and beautiful silk or satin fabrics.
Each moon sign is different and unique, so every wedding that is prepared according to these characteristics is unique. Do not miss the opportunity to use this theme to make your wedding unforgettable for you and for all your guests.
In fact, in Cicinia we already have an opinion on this type of ancient quest, so do not hesitate to visit our article to learn more about it!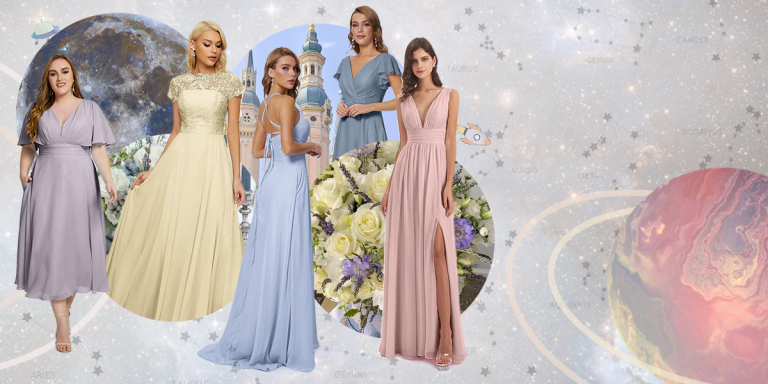 A wedding on the beach 
Are you and your groom passionate about the beach and have always wanted to celebrate the most romantic day of your life surrounded by sand and sea? If so, you'll be happy to know that using the beach theme to determine the style of your bridesmaids' dresses is very effective. In fact, your own dress will also need to be tailored to the circumstances, as walking on the cold, hard aisle of a church is not the same as walking on the warm sand of a beach that sinks beneath your feet.
A wedding at the sea invites all dresses to be light, with a lot of flight and in white or beige tones. On the other hand, she also suggests you the option of eliminating shoes in your bridesmaids' ensemble and opting for boho-style dresses with linen and cotton as protagonists. Finally, if you choose to do it in silver you can also think about choosing some kind of tiara or natural updo for you and your bridesmaids since in the sea it is always usually quite airy and for the ceremony and photo shoots you will be much more comfortable to have your hair well collected and out of your face.
Rustic Wedding 
If you choose to get married outdoors but instead of opting for the sea you choose the mountains, you can also choose the style of your bridesmaids' dresses inspired by nature and everything that represents for you to get married in a place as magical as the woods.
A mountain wedding invites you to choose vintage style dresses, with off-white and lace as the protagonists of the design. On the other hand, you can also add a floral detail at the waist of your bridesmaids' dresses or in their updos to match your wedding dress. This way you will blend in with your surroundings and look like real forest nymphs. The possibilities are endless, you just have to look at the place where you will get married and try to find dresses that fit perfectly with its light and colours.
An evening wedding 
As we mentioned at the beginning of the article, taking into account the time of day you are getting married will also help you determine the type of dress your bridesmaids should wear. Therefore, if you are getting married at night, your bridesmaids' dresses should be according to the light and tones of a night event, that is, dark tones but full of bright elements that in contact with the light of the spotlights illuminate and generate a hypnotic effect on the dresses.
An example of the ideal bridesmaid dress for this type of wedding would be a cobalt blue dress covered with sequins and with a large opening in the back. In our catalog you will find a wide variety of options that match this description, do not hesitate to consult it to learn more.
Indoor wedding in classic style 
Your wedding will follow all the classic canons of traditional weddings, it will be held in a church and the banquet will be indoors. You may think that this style of wedding is already seen and that your bridesmaids' dresses will not be anything out of the ordinary, but the truth is that you can also innovate in this field and use the classic style to your advantage to choose a beautiful and timeless design that will make both you and your bridesmaids look very beautiful and fashionable.
An indoor wedding invites you to choose long silk or satin dresses, with demure sweetheart necklines and with some kind of cape or veil on the shoulders that bring movement and sensuality to the design. Pastel colors are perfect for this type of ceremonies, such as salmon or blue. Whatever your choice, on our website you will surely find the bridesmaid dress that suits your needs.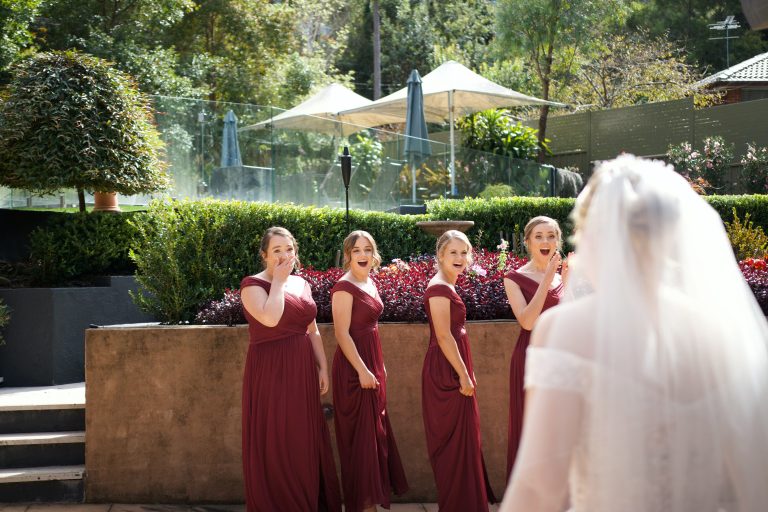 Winter Wedding 
More and more brides and grooms decide to get married in winter and have a wedding worthy of a Christmas fairy tale. However, getting married when temperatures are so low makes the search for a dress even more complex, but nothing is impossible. You just have to let yourself be carried away by the magic of the season and its colors.
For example, if you are getting married in December or January you can opt for green or red colors (since you are in the middle of the Christmas season) and thicker fabrics that help your bridesmaids to cope with the cold without preventing them from looking beautiful. Wearing gloves is also a good idea, both to keep your hands from getting cold and to make the whole dress more complete and elegant.
You can also opt for all-white dresses that emulate snow and do the same with the rest of the decoration. The options for choosing a dress in winter are many, you just have to relax and look at all the information available to you.
These are six really effective ways in which you can find the perfect dress for your bridesmaids to look spectacular on the most beautiful day of your life. Although they are not the only ways to find your ideal dress, we hope that with the information we have given you and by consulting our website, you will be able to find what you are looking forward to for your wedding.
For more tips and tricks, visit: https://cicinia.co.uk/
Pictures: Supplied